In This Moment: Black Widow
---
December 2, 2014

admin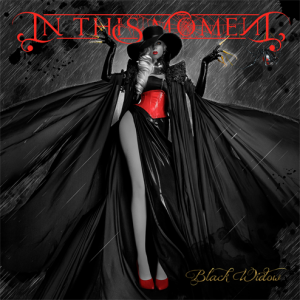 I'm going to just put this out there for those who don't like to read reviews about the "genius of rock stars" – In This Moment's latest album, "Black Widow" might be the best album released by anyone in 2014. I know what you're thinking, you're either thinking, "No way, 'Blood' was a far superior record and thematically very similar" or you're thinking, "Who the hell is 'In This Moment'?" To the first group, Blood is a very similarly themed album, true – but ultimately a very different album for reasons I will get into later. For the second group, the ones that still don't know who In This Moment is, to steal a phrase from a friend, they are the group that sounds like what Marilyn Manson would have sounded like if he were still good.
Black Widow is their fourth album with producer Kevin Churko and it's a masterpiece. In fact, this is the best story I've heard since Dream Theater released Scenes from a Memory in 1999. This album, ultimately, is cautionary tale of the Black Widow and takes us on a journey of a true anti-hero who comes from broken and humble beginnings and covers a life of poor decisions, bad luck and feelings of worthlessness until finally finding meaning through her trials and tribulations. The album embraces the uncomfortable realities shared by far too many women these days. Yet through it all Black Widow is an infectious and enticing ride from beginning to end exchanging some of Maria Brink's trademark screaming for deliberate melody and story telling. That's not say it's without its heavy and driving music reminiscent of what their fans have come to know and love, but the band seems hell bent on taking aim at the mainstream (or what might be fringe listeners) with the kind of macabre appeal that dare I say might even be danceable at times.
Ultimately the Black Widow is used as a metaphor. But to say that the album is simply a metaphor would be selling the story short. While the album might be one part cautionary tale, it is also a story about the rise and fall (and rise again) of anyone that had to find their own way out of their own private hells – whatever they might be – and finding beauty in the struggles that many of us face. It is the struggle of the Black Widow is that thing that makes this album perfect. This brings me back to the idea of reoccurring themes that In This Moment tried to cover in the past like on the album "Blood," for instance. The fact of the matter is that the themes were simply better this time around. While Blood is at times vulgar, Black Widow finds a more elegant approach and instead of simply dangling words and snapshots of the ugly side of humanity, Black Widow is a journey that finds redemption in the struggle. It's this story, the story of finally climbing out of hell that leaves the listener breathless. In the end this album is full of the kind of empathy and hope that is a reflection upon our own personal struggles making the statement that we are not as lonely as we might think.
Black Widow is a must listen. In fact, if you only buy one album in 2014, this is the one no matter what your musical taste. Any album that tells a compelling story with catchy tunes is one thing but add to it one that runs the gamut of the entirety of the human experience in an open and honest way is something that we should stop and examine if only to better understand what it is to be human. In that end, these are ideas that make us all beautiful. If nothing else, this album is an attempt to place the mirror up to the audience in order to show us something common within all of us in order to help us, to quote the album's final song, "Out of hell."
By
Paul Stamat