Fair to Midland – Arrows & Anchors
---
July 12, 2011

admin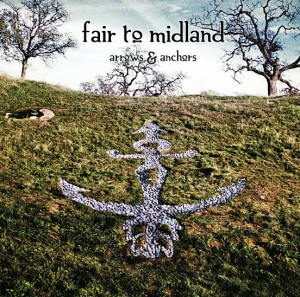 We live in a weird world that doesn't always reward creativity especially if that creativity is pitted against the established formulas and categories already set into motion. It's the primary reason why those who are trying their best not to conform to an established mold are often looked upon as strange and come across as someone ringing a dissonant bell. This is an unfortunate truth. But it's a truth none the less. Now take that dissonant bell and layer heavy guitars, melodic harmonies, perfectly placed screams and add some keys and this is really the best way to describe Fair to Midland. They are the new kings of eclectic alternative metal that almost can't even be labeled metal at all. This was the early buzz coming straight from front man Darroh Sudderth when he was describing the creation of "Arrows and Anchors" and labeling it the heaviest "non-metal" album this year. As we chatted about the album a couple of months ago, I wanted to know what made him tick. After watching a few YouTube videos, Darroh isn't your typical rock personality – he's soft spoken and very humble making our conversation kind of comical as he cleverly dropped lyrics and song titles on an unsuspecting journalist when I wanted to know about his process in creating such interesting lyrics. At the time we were discussing the process as they were placing the finishing touches on 
Arrows & Anchors
 and he revealed that his creative process involved locking himself up with some whiskey and a bottle of Ritalin. At this point, I can only assume he was dropping lyrics on me. But it was during our talk that it was abundantly clear that the wait for the new album was not for lack of trying. It's been a few years and I was searching for the reason for the long wait. There are grumblings that this could possibly be their Chinese Democracy. Darroh tells me about the unfortunate state of music and how the record labels no longer spend any time to develop bands the way they used to. And it's true, they don't. This is also what happened to them when we talked about their previous album 
Fables from a Mayfly
 and the band coming to E1. Darroh feels he finally has the full support of a group that is 100 % behind them. He speaks of them fondly and to their credit they seemed to be working hard to help perfect Fair to Midland's latest release. As I go back over the list of bands and artists formerly on major labels that I was lucky enough to interview over the last year, I also see the trend. There are some really good bands that are here today and gone tomorrow because of the direction that the record companies have gone. Darroh expresses this further by saying that "We are sincerely different, we don't set out to make weird, different music. We write music the only way we know how. So that makes it harder to market, harder to open up to a broader audience…and we might be bitter about where we're at sometimes, but the day that we're not we won't get any better." If it sounds like they're bitter about how disappointing things eventually played out with their previous label though, they're not. Darroh understands the nature of the business and about their music being a tougher sell. However he is passionate and also makes light of previous bands he was influenced by and who also walked that fine line of mixing commerce with what he calls "artistic integrity" and believes the payoff is that much better when given a chance. If Fair to Midland has anything going for it it's that they are far from the mainstream music scene. That's my impression as I listen to Arrows and Anchors which finally debuts in the U.S. on June 12, 2011. And it's a gem of an album. It's lyrically clever juxtaposing religious imagery with a dark sarcasm that really bleeds in songs such as "Musical Chairs" which express sentiments such as,
If I worship the ground he walks on
and it winds up they he has two left feet,
will he be walking on water?
Cause you know we never liked to get our feet wet.
This album is every bit as good as 
Fables from a Mayfly
. Whether it's pointing out their dark sarcasm that reads like a journey towards discovering anti religion as Darroh writes about how he would "rather find Jesus outside of the book" or calling himself "a bitter son of Abraham." Fair to Midland makes each song resonate and feel very much like the whole album was written from a guy who was drinking whiskey and taking Ritalin. They certainly do something else that I would never have expected either. They make everything that isn't supposed to fit together fit together – from a banjo under heavy guitars in "Amarillo Sleeps on my Pillow" to the kinds of growls we were familiar with when they were in 
Fables
 – everything is melodically and beautifully placed next to lyrics that are sung like a lullaby, "If he tries to shake your hand, just hit him with the frying pan" in "Rikki Tikki Tavi." I can't not recommend it. It's a great album. But will it be embraced the way that it should? That's another question. I for one wish that this one finds its way onto your mp3 player. Again, I can't thank Darroh enough for taking time away from the studio to talk about the release. Here's to Fair to Midland finding their audience on this one because no one deserves this more than them.
By Paul Stamat